SweetSexySavage - Review
Written by: Tom Blaich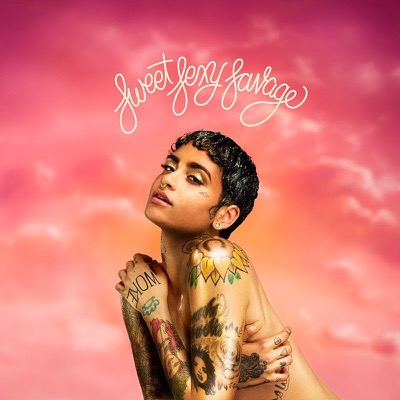 After the success of her mixtape, You Should Be Here, overnight R&B hit Kehlani is back with her debut studio album SweetSexySavage (all one word of course) which luckily fixes many of the problems that I had with the mixtape, and manages to deliver a solid, if unimpressive set of tracks. It is a pop/R&B album, heavy on the pop, and it does a good job at being easy to listen to, but it doesn't go anywhere special or break any new ground while it does it. I hate to call something generic, but as I coasted through song after song, I couldn't help but think that I had heard this all before.

The few times she did grab my attention, it was great. I am a huge fan of "CRZY" and "Do U Dirty" which at the very least have a different style of production than the rest of the album. And there were a few lines that I truly loved. "If I gotta be a bitch, Imma be a bad one" jumps to mind as being simultaneously dumb as hell and genuine, adding another layer to the R&B persona and how you have to build your own public perception in spite of what other people might think. I'm probably reading into it too much, however, because less than 90 seconds later she drops the line, "Only L I take is to the face."

For the most part, the album is decidedly middle of the road and little is done to try to break the mold. I was not a fan of the skits on the last mixtape. It lacked a sense of unification, and while she resolved these issues, she did so without doing anything to differentiate this album from its counterparts in the genre. She needs to find some element of originality that it desperately needed. There is little depth here, little you can read into or try to decipher. Much like Macklemore or J. Cole, she feels the need to say exactly what she means and nothing else. It makes for a remarkably shallow, but easy to listen to, album.

Like a car spinning its tires in the mud, SweetSexySavage is stuck in place and there isn't much it can do to escape. Kehlani tries the same thing over and over again and nothing changes, and I just wish that she was able to recognize that, get out of the car, and try to solve the problem.



2.5/5



Tracklist
1. Intro 2. Keep On 3. Distraction 4. Piece of Mind 5. Undercover 6. CRZY 7. Personal 8. Not Used To It 9. Everything Is Yours 10. Advice 11. Do U Dirty 12. Escape 13. Too Much 14. Get Like 15. In My Feelings 16. Hold me by the Heart 17. Thank You

Our review code can be found here for information on how we write and score our reviews. If you have any questions, comments, suggestions, or concerns, please contact us at contact@deathofthecritic.com
_____________________________________________


Tom has been writing about media since he was a senior in high school. He likes long walks on the beach, dark liquor, and when characters reload guns in action movies.




You Might Also Like:
Dim Mak Greatest Hits 2016: Remixes - Review

3001: A Laced Odyssey - Review

As Seen on the Internet - Review

_____________________________________________