Slime Season 3 - Review
Written by: Tom Blaich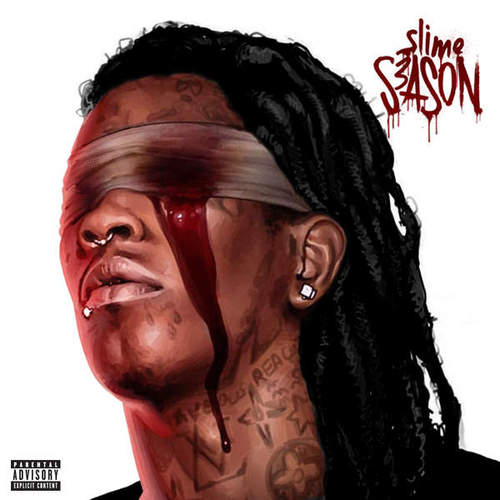 The opinion on
Young Thug
is divided. He's not an intellectual rapper, and some hold him in contempt for his sometimes confusing style of rapping, alongside his party anthems. While at the same time, others praise him for putting out fun songs that bump and rock and beat their way through your ears. But you get the impression that Young Thug doesn't really care about his detractors, as he announced the release date of this album at SXSW in a literal eulogy, as men carried a coffin through the streets emblazoned with the albums name and YSL, the name of his clothing line. This is the final official release after hundreds of his songs were released online, as he reproduced and remade some into the last two Slime Season albums.

But that doesn't seem to hurt this release. Clocking in at only 8 tracks, there is no room for fluff or filler, just a few short, solid tracks that you can listen to over and over, or pull out and pop into a playlist rather easily. There is no common thread or link between them besides the party lifestyle that Young Thug advocates. Instead, we have London on da Track, Mike WiLL Made It, Ricky Racks, and others collaborating with Young Thug to make 8 hard hitting songs with some fun dumb rhymes. They aren't trying to make you think. They are trying to let you have fun.



And they are successful as hell in doing so. There is no pretension here about what the album is, no dancing around a core message or idea. Just a really fun album that lets you relax while you listen.

The album starts off solid with a great run from the first track "With Them" where he boasts "I wanna fuck her but she play more games than the NBA" and "she suck on this dick on the plane and I just called her airhead (woo)" to "Memo" where he continues his boasts, "I got twenty chains on me, they gon' chip just like some dip" and "Drippin'" and "Slime Shit". In fact, the only song that I really am not a fan of comes in "Worth It" which drops much of the backing in favor of a much more minimalist sound, which doesn't really fit in with the rest of the album.

More than anything this makes me excited for his official release, which he has been teasing for a long time. If he can keep up this production and keep writing like this, then we could have another very solid hit on our hands very soon. But until then, Slime Season 3 will have a place on playlists and in cars as I just try to sit back and have a good time.

Tracklist:
1. With Them
2. Memo
3. Drippin'
4. Slime Shit
5. Digits
6. Worth It
7. Tattoos
8. Problem

This title was reviewed before the inception of our current review system and as such is not scored. We still stand by the content of our old reviews.

Our review code can be found here for information on how we write and score our reviews. If you have any questions, comments, suggestions, or concerns, please contact us at contact@deathofthecritic.com

_____________________________________________


Tom has been writing about media since he was a senior in high school. He likes long walks on the beach, dark liquor, and when characters reload guns in action movies.




You Might Also Like:
Jeffrey - Review

SremmLife 2 - Review

Major Key - Review

_____________________________________________